About Napoleon Jones-Henderson
Napoleon Jones-Henderson was born in 1943 Chicago, Illinois, and grew up in the community of Altgeld Gardens. Jones-Henderson attended the Sorbonne Student Continuum-Student and Artists Center in Paris, France in 1963 where he was immersed in an independent study program in French Art History and Figure Drawing. Upon returning to the United States, he enrolled in the Art Institute of Chicago receiving his B.F.A. degree in 1971. Jones-Henderson went on to earn credits in advanced graduate studies in Fine Arts at Northern Illinois University and earned his M.F.A. degree in Interdisciplinary Arts from the Maryland Institute College of Art in 2005.
In 1968, during the apogee of the Chicago Black Arts Movement, Jones-Henderson became a member of the Chicago-based artists' collective called COBRA (Coalition of Black Revolutionary Artists). The collective changed its name in 1969 to AfriCOBRA (African Commune of Bad Relevant Artists). During the formative years of AfriCOBRA, Jones-Henderson created large pictorial woven tapestries that were included in the group's important series of exhibitions.  In the early 1970s, exhibitions were mounted at the newly founded Studio Museum in Harlem and the Museum of the National Center of Afro-American Artists in Roxbury, Massachusetts. He has been an active member of AfriCOBRA since 1969. Jones-Henderson is one of the longest continual active members. In 2011, the documentary AfriCOBRA: Art for the People was produced by the TV Land Network. The documentary chronicles the history and celebrates the contributions of AfriCOBRA to the 1960s Black Arts Movement.
Jones-Henderson wields color as an instrument of expression which he equates to a musician's use of tone and sound – meaningfully contrasting, pairing, and creating hues that generate "visual music". He works across mediums, speaking to larger themes of uplift and connectivity. Jones-Henderson's passion for music translates to his artistic practice and is thematically present in many of his pieces.
Over the course of his career, Jones-Henderson has served in various academic positions at Malcolm X College in Chicago, Massachusetts College of Art, Emerson College in Boston, Roxbury Community College, and Vermont College of Norwich University in Montpelier. In 2005, Jones-Henderson was appointed associate professor of art at Benedict College in Columbia, South Carolina. In addition, Jones-Henderson served as artist-in-residence at Towson University, Syracuse University, and the McDonough School. Jones-Henderson has been honored with Artist Residencies, Lecture in Residencies, Visiting Artist, Juror, and Curator of numerous exhibitions and panels. Jones-Henderson exhibited as a member of AfriCOBRA in the 58th Venice Biennale, Venice, Italy in 2019 and a "50 Yr. Retrospective" exhibition at the ICA Boston in 2022.
His work has lasting influences both locally and globally with a focus on uplifting the African Diaspora. Today, he continues to inspire others as a mentor, community member and practicing artist.
Mysterioso
"
It's two figures looking toward each other. And the space in between the figures, which is a silver ink background, was brought to my attention by someone at an exhibition, that it resembles a chalice.
"
A stencil for final piece Mysterioso. Music inspiration, Thelonious Monk.
c. 1984
27 x 16 1/2 in.
Txai
"
'Txai' […], it's a word that comes from one of the native tribes in central Brazil… The word ostensibly means that 'we are all responsible for each other, we are all each other's brother and/or sister. It's a word from their language.
"
Lithograph print with hand screen gold ink; bleed
c. 1991
22 x 30 in.
Bebop Kubra
"
It was done in five different materials, and they must have liked it for some reason or another.
"
Completed this work in five different mediums: ink dye on silk, enamel on copper, oil pastel, applique textile piece utilizing triponto, silkscreen print.
Part of a four series. Other works in this series include "Knuff Said", "Straightin' Up and Fly Right", and "Wheepin' n' Whalin'".
The artwork and title are related to and inspired in part by a suite of music by Duke Ellington.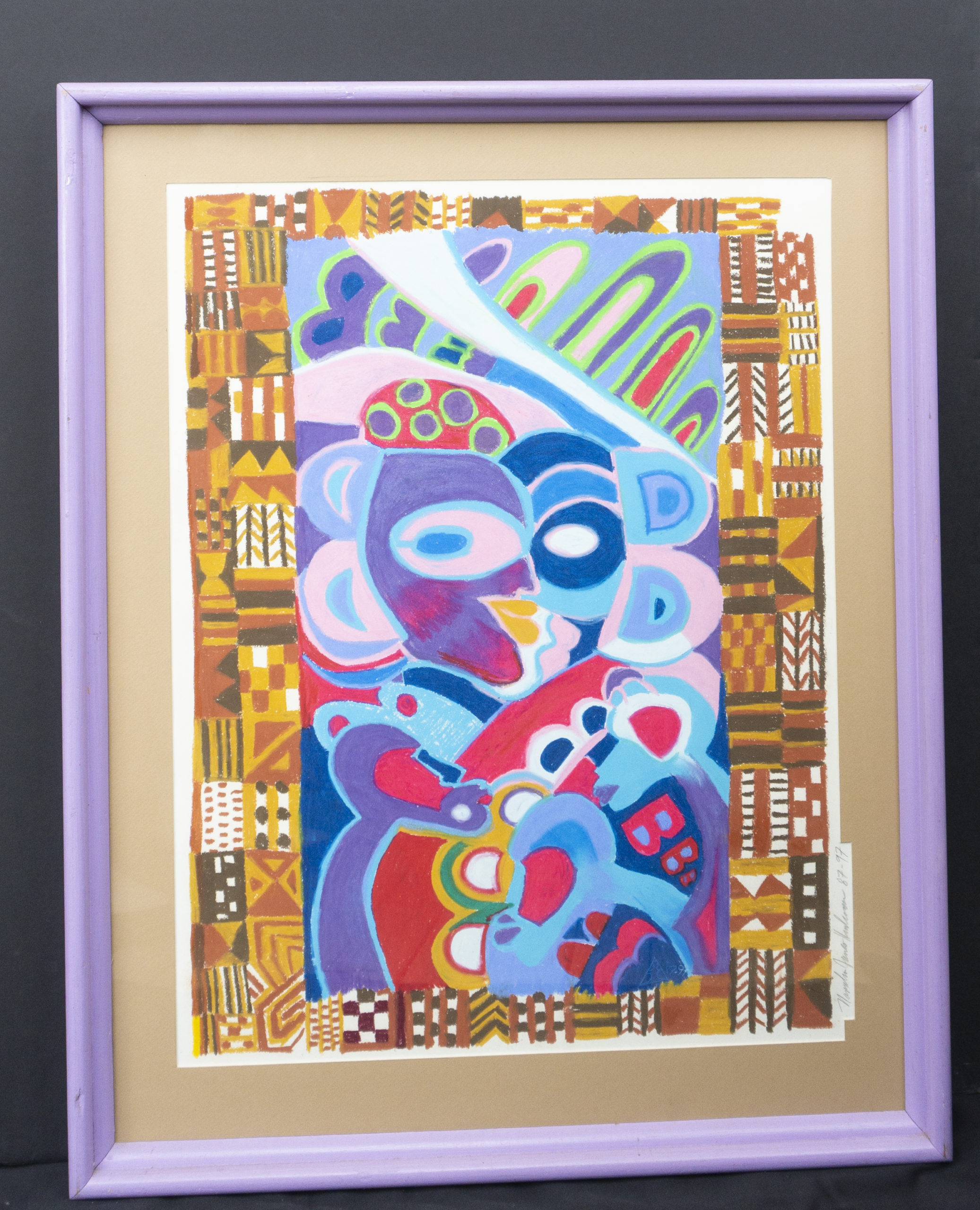 Knuff Said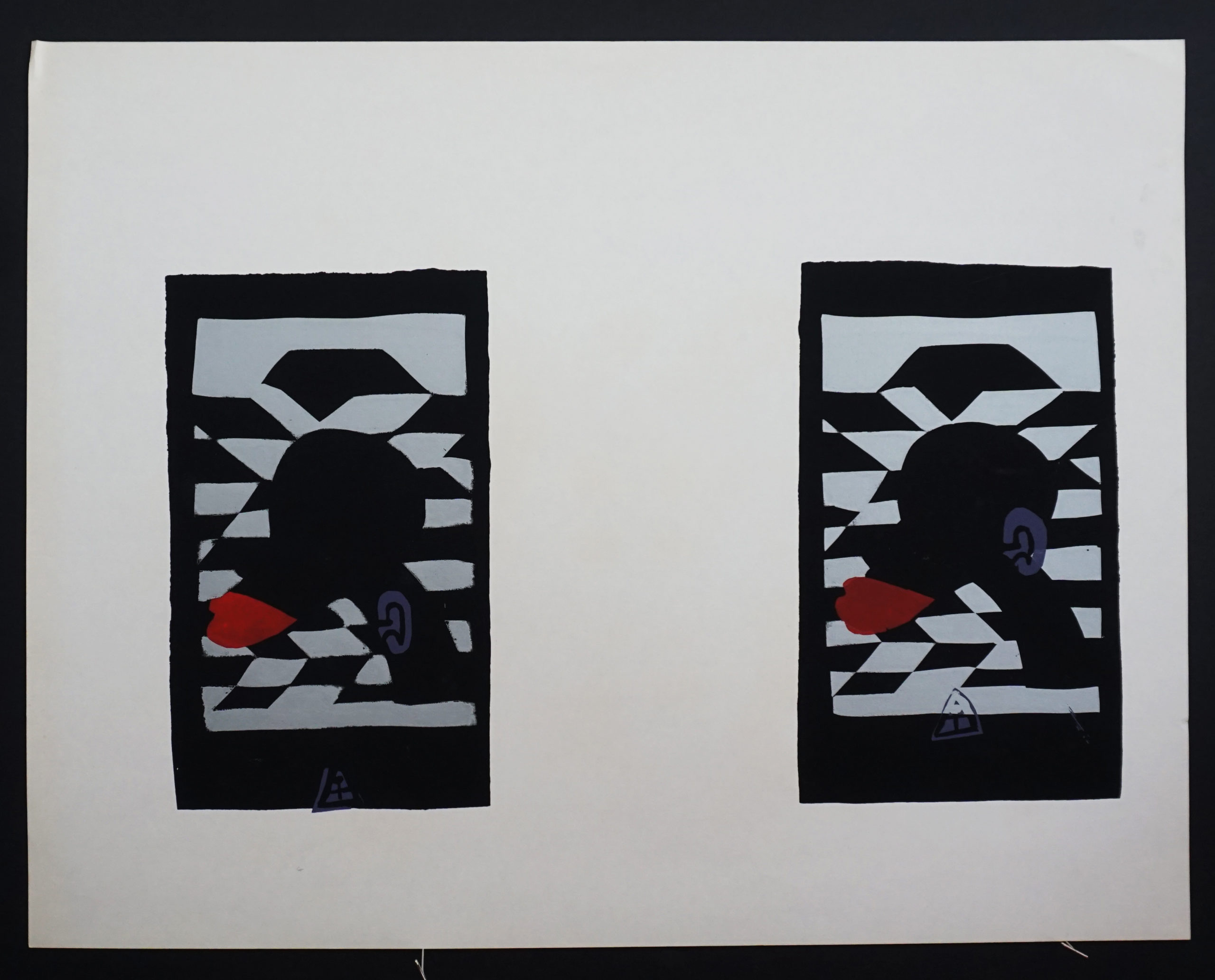 Straightin' Up and Fly Right
Wheepin' n' Whalin'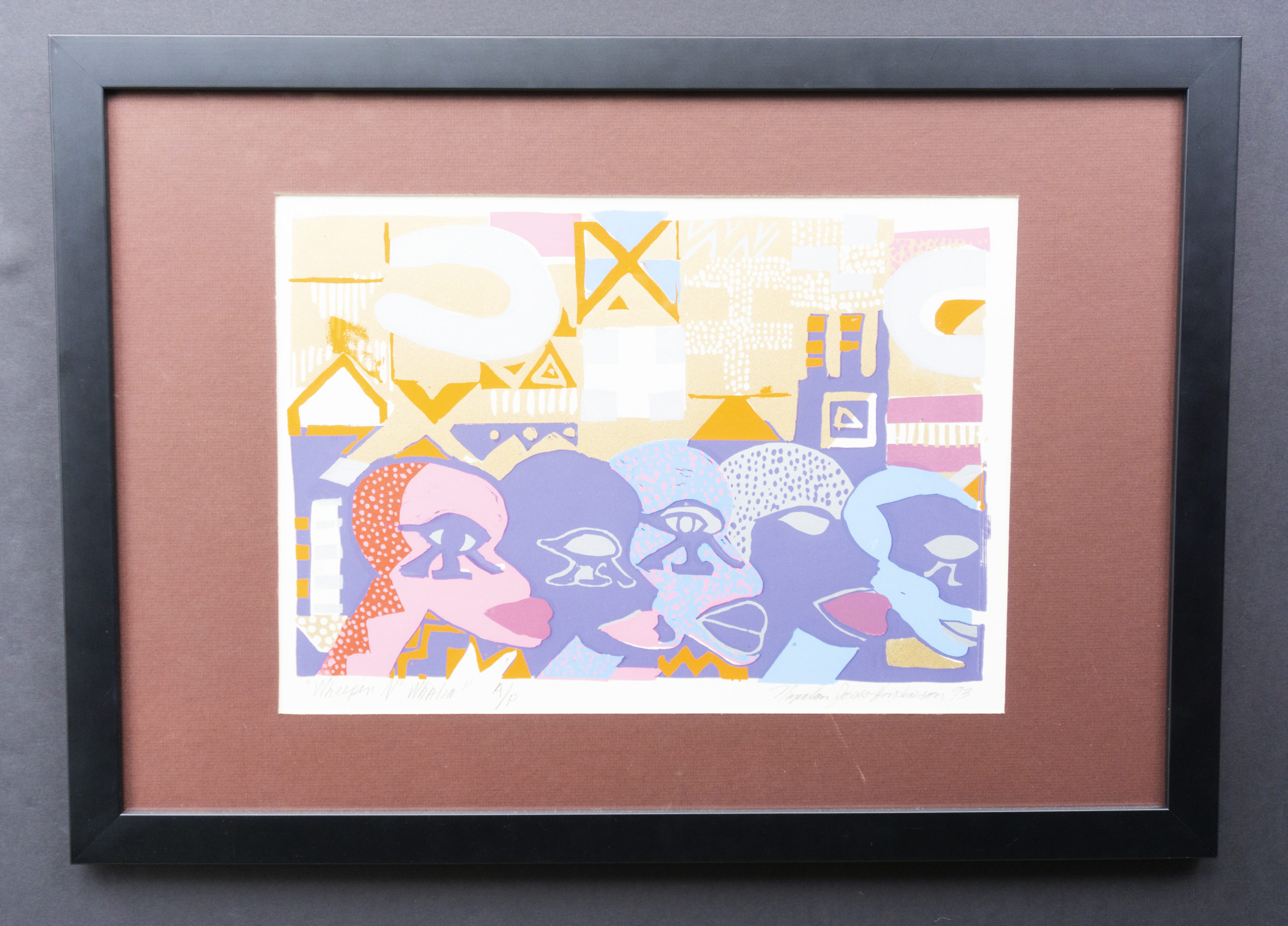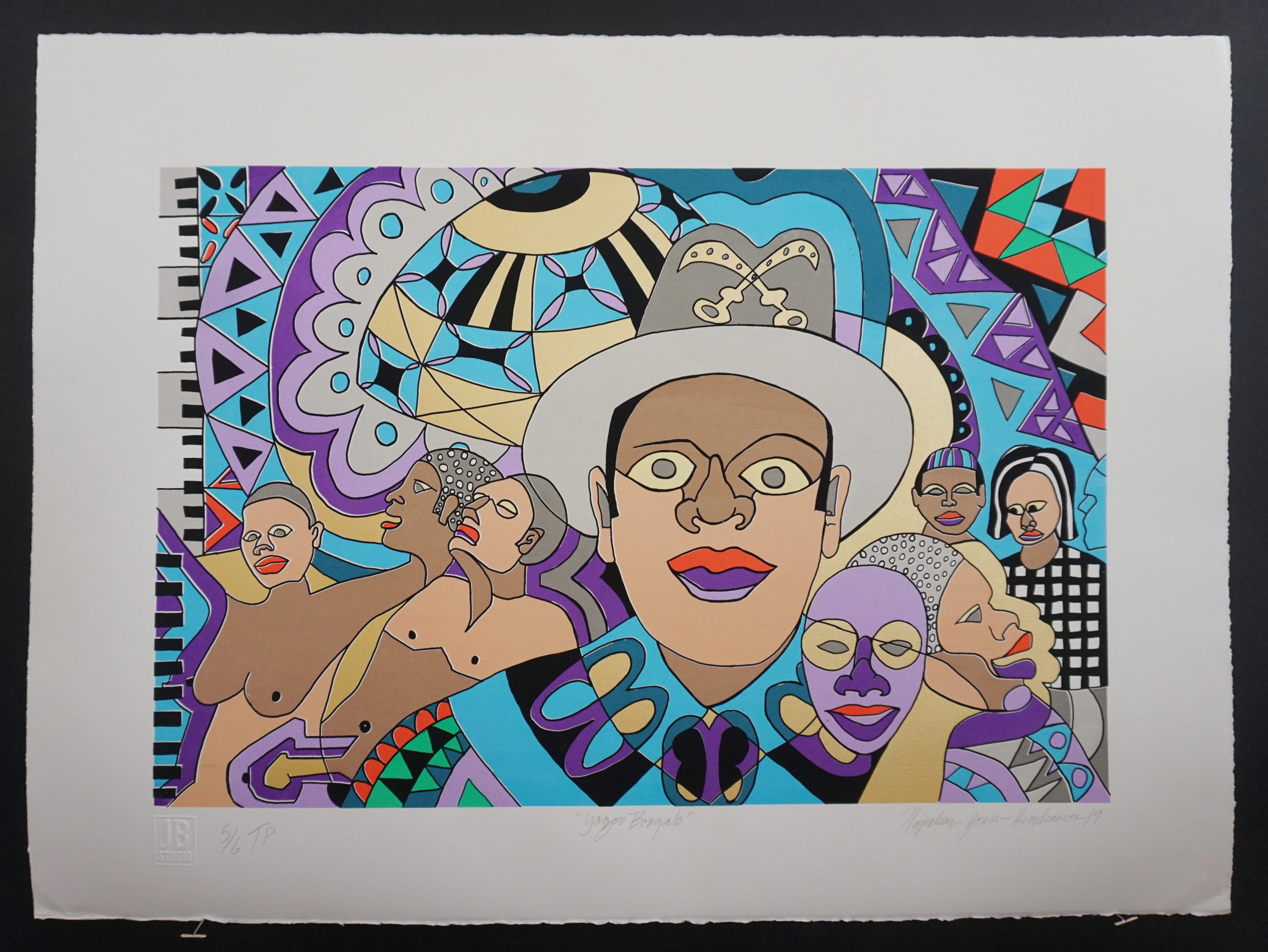 Yazoo Boogalu
"
It's not about a portraiture, it's about the spirit and the energy of those individuals and their lives within the context of my life.
"
"Yazoo Boogalu" is part of an ongoing series of work about the men in his family. "Yazoo Boogalu" is one of the pieces within a larger series called "Requiem for Our Ancestors".
2019
24 x 16 in.